Many different games are featured on the Red Dog casino platform. The main developer on the platform is RealTime Gaming, a well-known name in the iGaming industry. While this company specializes in the creation of slots, it has also made many popular table games and live dealer games powered by Visionary iGaming. That being said, below, you can read the list of Red Dog casino games.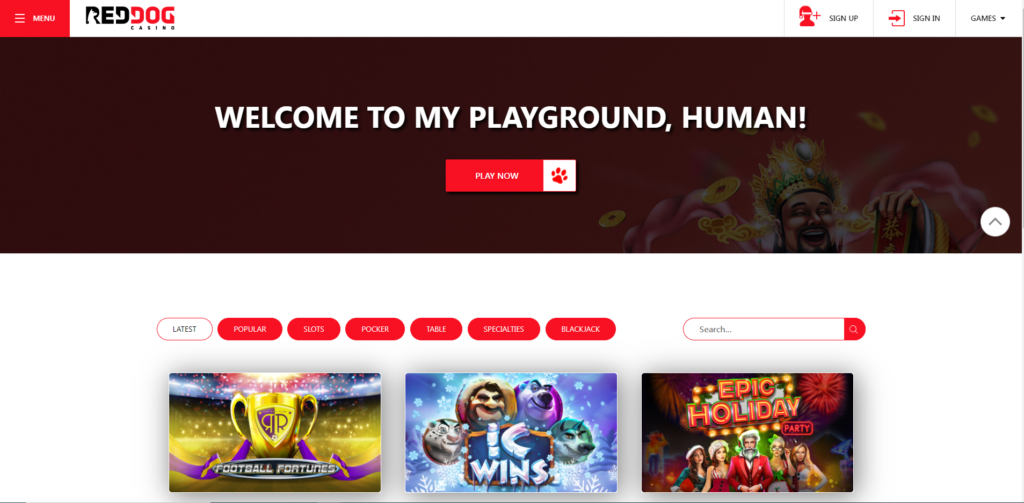 Slots
As mentioned before, RealTime Gaming has made it a specialty to create slot games. Some of the Red Dog slots available in the casino are Dr. Winmore, Frog Fortunes, Diamond Fiesta, T-Rex II, Magic Mushroom, Pulsar, and others. The Red Dog casino slots are some of RTG's very best, and you will definitely find them quite enjoyable and potentially lucrative.
Video Poker
Video Poker is also a top-rated gambling game. The benefit of playing it is that there are no people to compete against. So, you won't have to beat your head as much every time you play. Instead, you play against the house, and the goal is to get a combination of jacks or better to win. There are four main categories of Video Poker games – 1 hand, 3 hands, 10 hands, and 52 hands. And some of the Video Poker games are All American Poker, Aces and Eights, Bonus Poker, Bonus Poker Deluxe, Deuces Wild, and many others.
Table Games
Likewise, you will be able to find a variety of table games at Red Dog. For starters, you can play the highly popular games of Caribbean Hold 'Em Poker and Caribbean Stud Poker. If that's not your thing, then why not try and play the Baccarat game? It's a game where you will get to bet for the dealer or the player or a tie outcome. And these simple rules have attracted the attention of millions of players. Baccarat is one of the all-time classic staples at Red Dog Casino.
Blackjack
But what casino would be able to boast that it has a full library of games if the Blackjack game wasn't available? Luckily, Red Dog Casino hasn't made this mistake, as you can play the Blackjack game here. Red Dog Casino Blackjack introduces RTG's products, a few different game versions available to play. They feature a variation on the rules to keep things interesting.
Specialties
There are also specialty games that you can play at Red Dog Casino. These games include titles like American Roulette, Banana Jones, Craps, European Roulette, Keno, and Treasure Tree. The Roulette game is arguably the most popular pick here, be it the American version or the European one. If your goal is to win as much money as possible and increase your theoretical RTP rate, we suggest choosing European Roulette because it features a single zero. The American version has double zeroes, making it slightly more difficult to win money in both the short and the long run. French Roulette is available for play in the downloadable desktop version.
Live Dealer
Luckily, Red Dog Casino also offers live dealer games. This means that the unforgettable Red Dog Casino live dealer gambling experience is another reason for you to join the platform. Given the rising popularity of live dealer gambling games on the Internet, Red Dog Casino is also on the trend. It has its very own live gaming section where you can play live dealer games such as Backjack, Baccarat, Roulette, and Super 6.
Within the captivating realm of Red Dog Casino, a diverse array of games awaits, promising an exhilarating journey through the world of iGaming entertainment. As the main developer on the platform, RealTime Gaming takes the spotlight, renowned for crafting exceptional slot games. While specializing in slots, this developer extends its expertise to create popular table games and live dealer experiences in collaboration with Visionary iGaming, enriching the casino's offerings.
The tapestry of Red Dog Casino games unfolds with an impressive assortment, catering to varied tastes. The slot selection features titles like Dr. Winmore, Frog Fortunes, and Diamond Fiesta, blending enjoyment with potential rewards. Beyond slots, Video Poker provides a solo gaming experience against the house, with various game categories to explore.
Dive into table games like Caribbean Hold 'Em Poker, Caribbean Stud Poker, and the timeless Baccarat. The inclusion of Blackjack, a staple in any casino's library, enhances the diversity, with multiple game versions to keep the experience fresh. For unique thrills, specialty games including Roulette variants, Keno, and Treasure Tree add intrigue.
Red Dog Casino sets itself apart by embracing live dealer games, a trend gaining momentum. With offerings like Blackjack, Baccarat, Roulette, and Super 6, the live dealer section provides an immersive gambling experience. The platform's dedication to diverse preferences ensures players find their ideal game, whether it's strategic allure or live dealer excitement.
In essence, Red Dog Casino offers gaming diversity where players explore slots, table games, specialties, and live dealer experiences. With each spin or deal, the promise of excitement and discovery prevails.
Embark on an Eclectic Gaming Odyssey at Red Dog Casino
Within the captivating realm of Red Dog Casino, an enchanting tapestry of games awaits eager players, beckoning with the promise of diverse entertainment. RealTime Gaming's mastery brings life to an array of slots, table games, and live dealer experiences, each offering its own brand of thrills. Whether you're drawn to the strategic dance of Blackjack, the solitary challenge of Video Poker, or the immersive allure of live dealer interactions, Red Dog Casino ensures a captivating journey through the world of iGaming. Step into this realm, where every spin and deal holds the potential for discovery, excitement, and memorable moments. With an assortment spanning from classic table games to cutting-edge live dealer interactions, Red Dog Casino caters to every gaming palate. Immerse yourself in a world where the excitement of chance intertwines with the allure of strategic gameplay, promising a truly unforgettable experience for players seeking entertainment beyond boundaries.
Here are some games that you can find at Red Dog Casino: