There may be times that you may need assistance when accessing your casino account or playing supported games. As a trusted and respected online casino, you can expect fast and friendly service from the Red Dog customer service team. Here, trained professionals will address any problem or complaint that you may have and offer a prompt resolution.
Contact Options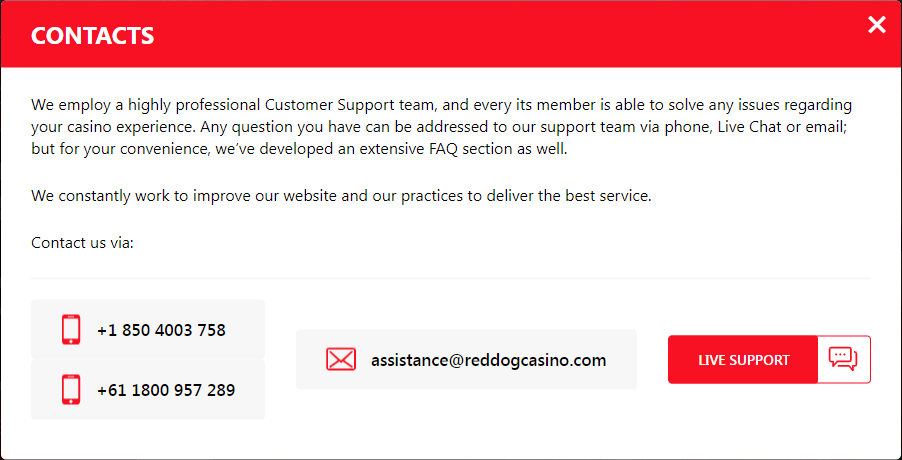 As a registered member, you will always have access to the helpful team of support agents. Even if you visit the site to preview some free games, you can reach out to the support team to ask questions.
There are three ways to contact support, and they all offer fast and friendly services. You will be pleased with the response time no matter what method you choose.
Live Chat – This is available 24/7 and can be accessed on PCs or mobile devices.
Red Dog Casino Phone Number – Call the casino directly at +61 1800 957 289 or +1 850 4003 758.
Email – Send an email to the support team at

[email protected]

.
You will find that customer service is only offered in English. If you want to avoid using the support services, you can check the FAQ page, offering answers to commonly asked questions.
Availability
You will always have access to the trained team of agents at this online casino when using any PC or mobile device. The site offers 24-hour options, and you will find all supported methods provide a fast response time. If you need immediate assistance, we highly recommend the live chat Red Dog casino customer service option, which will instantly connect you to an agent. Email inquiries may take up to 24 hours to receive a response. If you prefer to call the casino, you may have a slight wait tie connected to a support team member.

User Feedback and Testimonials
The true testament to the effectiveness of Red Dog Casino's customer service lies in the voices of the players themselves. Numerous users have shared their experiences, shedding light on the quality of support offered. Many players applaud the rapid response times of the live chat option, often highlighting the instant connection to knowledgeable agents who address their concerns promptly.
Testimonials also emphasize the courteous and friendly demeanor of the support team, fostering a positive and reassuring atmosphere. Players commend the thoroughness with which issues are handled, often leading to swift resolutions. Additionally, the availability of multiple contact options has been a game-changer for players seeking diverse ways to communicate their questions or problems.
While most players celebrate the efficient support channels, some mention that email responses occasionally take the full 24 hours. However, this seems to be the exception rather than the rule, as the majority of users laud the casino's commitment to responsive and helpful assistance.
Here are some games that you can find at Red Dog Casino: